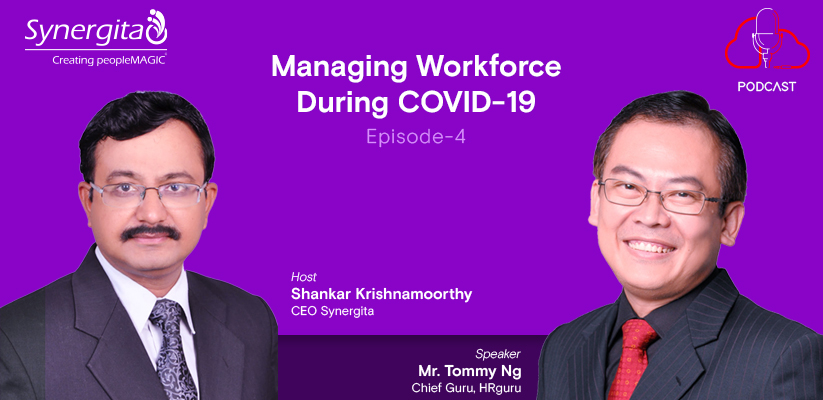 Managing Workforce During COVID-19
About HR Guru
HR Guru Hub is a dedicated professional online HR resource for employers to get all the HR documents, knowledge, help, and support they really need to manage their employees and employment issues. They provide tailored HR Management consultancy solutions to help you sort out your specific issues and requirements. Together they are cultivating a growing network of HR professionals, HR Consultants, and service providers, forming a critical mass of HR expertise which is raising the bar for standard practices and human resource consultancy in the HR industry. HRGuru was also voted as the Best Consultancy – HR Advisory, in HRM Asia Reader's Choice Award 2017.
TRANSCRIPTION
Shankar, CEO, Synergita: Welcome to Synergita's TalentCast series. In today's podcast, we're talking to Asia's leading HR advisor, entrepreneur, and author Tommy Ng. He is the founder and Chief Guru of an advisory company, HR Guru, based out of Singapore. Tommy has more than 30 years of experience in driving HR at companies like the SMRT, Raffles International. He is also part of multiple HR councils. Tommy works very closely with CEOs and the CHROs in the Asian region especially during these tough times of COVID is helping them to navigate the challenges. Welcome, Tommy, and I thank you for taking time to spend with our audience on sharing your experience and expertise. Your guidance and views on what companies can do in this unprecedented situation will be really helpful for us. 
Tommy Ng: Thank you, Shankar, thank you so much for inviting me and honored to be given the opportunity to participate in the Synergita's TalentCast.
Wonderful! So let's begin with some of the conversation let's begin with your book Tommy "Nothing surprises me, I work in HR: A personal journey," very interesting and intriguing item. Can you please share some of your journey that inspired you to write such a wonderful book?
Tommy Ng: Sure, Shankar. So, my career, as you have mentioned, in the HR profession span over about three decades. I moved in the private sector in global finance, where I worked in Standard Chartered, very few people know about that, over hospitality of course this is where I have worked in high international breakfast hotel for nearly two decades. Education and learning this in relates to reference knowledge, subsidiary management and public transport as a multi property management and development in Kaokoland and of course in airline aviation industry was in Tigerair and I found that the company HR Guru in 2014 but the business actually took off only in 2016 after a year. After I started a company, I was being recalled or I say in to help out with the demo selling company business all assignment. My vision for HR Guru is very good to empower people, to make the right HR decision, So, HR Guru is really set up I said innovative and niche professional service specializing in HR and people management. We are a team of HR experts and independent professional who possess a wide range of HR functions, views with deep knowledge and understanding of today's complexation issue. We provide online on-demand professional HR advice, expert consultation, and customized solution for even the most complex HR challenges and people problems. During my corporate life, I serviced the number of HR symposium, policy counsel and typically I would like to push propel my view points and provide real work and it looks. And many of my students, colleagues, business associates, and even my bosses will encourage me to put together all this account of events and official wisdom into a book. It wasn't so difficult after I started writing. Initially, the thought writing was daunting, but somehow I managed to put together the book, and I call it "Nothing surprises me, I work in HR: A personal journey," in about 6 months and the book was published in June 2019. The book is really an easy to digest and illustrates the many reflections of my personal career journey. The book deals with real life situation and the pragmatic role of HR, when we handle crucial issues of the 21st century. I really hope the book, this book, will resonate with readers and sharing of my experiences will benefit the next generation of HR professional. We, as human beings, are inherently unpredictable, and this precisely this unpredictability makes the role of HR professional so interesting and challenging. So, if you are looking for inspiration in your HR career and feeling stuck in between your objectivity and prosperity, go buy a copy of this book. You can purchase a book easier in my website, www.hrguru.com.sg. Thank you.
Absolutely! Absolutely, Tommy! And it's a very nice book and especially you have talked about various situations and then how those situations were handled, I think that certainly gives us from a HR perspective some tips and guidelines on handling those situations. Thank you very much, Tommy.
Tommy Ng: Sure.
So, next coming to COVID, we are already on the 4th week of a circuit breaker, did COVID surprise you? How is the HR industry reacting to this COVID crisis?
Tommy Ng: I think before I touch COVID, let's go back several years, when SARS in Singapore, there was so much in 2003, we bring this how quick SARS spread through public hospital in the community infecting at the point at record 238 people and the decree people succumbing to the privacy. 17 years on, we are now again facing a global pandemic. It has been three months now since Singapore detected the first case of corona virus, January 23, since then the number of infection case, yesterday right, 19,410, and we are fighting from there COVID-19. For the youngest Singaporean and younger people, watching the crisis unfold is like seeing history coming to life, for the older Singaporean like me, COVID-19 is yet another reminder. Singapore maybe prosperous but they remain a vulnerable country if you then call me exposing and connected to the world. So, when COVID-19 first spread from Wuhan China to Singapore, Singapore could be become the worst hit city outside of China. This is not surprising as Singapore was top near hub destination to Wuhan. In fact, all imported from Wuhan. Our global air connection brings to us talent but at the same time you bring to us disease and threats. So, COVID-19 outbreak is definitely brought about unprecedented impact on business and workers around the world. In Singapore, the crisis is really hitting real hard, especially retail, travel, and tourism, where most of my clients are in and firms are of course faces business community issue, cash flow issue, supply chain issue with standards like now work from home being the norm, standard work hours, social distancing, HR professional has really got no choice but to adapt and innovate in order to survive the crisis. Now more than ever I think HR beginning to embrace and leverage technology to turn this crisis around, while we can try to simplify and streamline in person event exploring, adopting technology such as collaborative platform that Microsoft Team, Zoom like what we're doing now. All this virtual meeting software, I think it's the way to move forward and in the absence of reliable information regarding COVID-19 outbreak, HR plays a significant role including that misinformation of facts and assuring our employees of their safety which is their fundamental right. I'm taking proactive role in educating our employees about the symptom of the disease, the cause of the spread, and the preventive measure one must take. Also, in this new normal, where not everyone will be allowed to go back to work in the company without strict movement tracking mechanisms, social distancing measure, or isolation of employees, our senior employees cause increasingly companies who have no choice but to Institute flexible working arrangements either by law or by necessity, not if but when before the next pandemic occurs again. So, for the HR leaders, they have now have to ensure that through the appropriate flexible work arrangement policies, employees safety and well-being will be protected. Employees even expect these from employers going forward, so companies were to set aside funds and tap into government and so as to promote this flexible work arrangement. COVID-19 is definitely going to change the way business operates, especially HR, surely bring about a sea of change on the paper by HR moving forward. Thank you.
Absolutely, Tommy. And this time communication, collaboration, learning to work from home, remote working, all these things are all critical, and all of us are like learning and then there's going to be a new normal for us, So in this…
Tommy Ng: It used, used, sorry!
Yes. Please go ahead, Tommy.
Tommy Ng: I was going to say, it used to be a luxury, it used to be something that a government and everyone is encouraging people to adopt flexible work arrangement, the different way, in which we can get people to work, but I think with the new normal, it's just going to be something that you will have to do, to survive.
Yes exactly! It's becoming a mandatory of our work life schedule now.
Tommy Ng: Yes!
Exactly! So, you are actually working with various companies and then, again consulting them, providing advisory services on various HR initiatives, what kind of services are your clients seeking at this point of time? what do you, what do they need most?
Tommy Ng: COVID-19 is really fundamentally a people-based crisis. Individuals are getting sick and the repercussions for business and society are enormous. So, business leaders will have to attempt response to people parody and therefore, it has to be at the front and center. So far, as HR Guru, we've individual, professional and businesses and I mentioned earlier, we offer HR advisory, consulting, outsourcing, learning and development guru coaching, counseling, and search in such unprecedented time, the main concern among most employers is really about business survival. Businesses will need to adapt and restructure if they are going to survive. So, naturally for the past few months, we have been experiencing an update in our workforce transition services. We offer strategy empathetical advice to manage correct sizing and to serve as a key HR business partner to our client. One quarterly we actually enholden one of our clients this very difficult journey to restructure or be shipped. Where appropriate, we also offered redeployment and placement services and assist their displaced employee to find new jobs and minimize workplace disruption. Interestingly, also during this period, we have received numerous inquiries about our HR advisory services. Many are seeking advices on things like accelerating smart work in the workplace, mitigating people reason, managing workplace flexibility and how to step up on their training and development initiative during this downtime to raise using capabilities. On the individual side, we also see a search for one-on-one career transition service. As you know, career transition is an emotional experience that's tough for those affected to swallow. We have this professional to review your options, refocus that career, and have them together in the next right job in the softest possible time. Now, thank you.
Okay, Okay! Certainly, you have touched upon some of the very very important point in terms of survival, and then taking care of employee, safety, concerns, then again right sizing. All these are all extremely critical, certainly understand those things, Tommy.
Tommy Ng: It's a part of the business that we don't talk much about. Because really what we're doing is to downsize, right size, a very emotional situation but, in today's state, somehow, we have lots of people coming to us and I think everybody is preparing for the next business cycle and unfortunately loss of jobs going to be a loss.
Right, right, right! But I'm sure at the same time, you are striking a balance on these stuff, in terms of helping the employee side as well.
Tommy Ng: Yep exactly. So, this way, there are also employees who come to us as individuals and that's why we have them to quickly refocus, their career orientation, and then what they require so that they can fire new job as soon as possible.
Okay, Okay, Wonderful. That's really very nice of you, Tommy. So, when we talk about the employees, especially, now there are persons from working from home to job continuity and all, what are the guidelines that you are suggesting to the employees?
Tommy Ng: Okay. Yeah, It's really about the concern for businesses now for business continuity. To say that we are now living in uncertain times, huge portion of people being forced to isolate and embrace of remote working environment which I also faced with a mirror of issues and concerns that they will have to address. I think the first and foremost, it has to be the employers' obligation in respect of COVID-19. Tripartite panel in Singapore, Minister of Manpower, I should say Union Congress and then Singaporean Nation Employee Federation have issued several guidelines on the major employers of adopting the book pleas. First measure includes reminding employers to practice social responsibility by observing good personal hygiene, monitor the health of the employee by way of temperature, and encourage the employee to visit the hospital immediately if you are unwell. The Tripartite partners have also advised employer to set clear HR policies regarding employee who travel outside of Singapore. Employers are obligated to review all this work-related travel plans and people on essential travel. So, employer obligation would be at the forefront. Secondly, during these trying times, many HR had step up to re-evaluate the HR practices and do what is best for them to survive and sustain the business. To survive and sustain the business, many companies have to row out various cost saving measure, trim not-needed cost, and redeploy assessment power. So, MOM has also updated their Tripartite MI3 on managing assessment power and responsible retrenchment. These advisories fix the wind managing such assessment power situation, retrenchment should always be that last resort. After all the options have been considered and found to be unworkable, so we march, think we here, companies like FYI simple airline, I've said that you will be taking several cost cutting measures including headcount for the senior executive, and getting to start to go on their paid leave and this affects about 10,000 employees. Red Top has also announced that they would cut the median senior mansion pay about 137 of them in Southeast Asia and of course, small recently the Singapore based right healing giant has also announced their senior leader have taken up upto 20% pay cut. All these comes as the government is rolling out measure specifically designed to protect job such as with subsidy and foreign workers levy rebates. Totally, ready this thumb to use this period of enforced outcome to upskill, reskill, and transform the worker, so that they can meet demand during the rebound. The outbreak will pass definitely at some point. So, HR leaders are now seizing the opportunity to equip the employee with better skills and knowledge, so as to raise productivity eventually. The various government schemes that employees can tap on including those under the national secure future program and the adapting role jobs for the initiated. Company also encouraged to set up complete training committees that will work with the labor movement to place learning capabilities and re-strategize their business. Hopefully, I think many HR leaders are looking at ways to take various government support to offset business at which cost. The enhanced job support scheme covers 75% of all worker employee wages up to the ceiling of autumn's head April, May, this service support 25% for the remaining Seven months with higher subsidy of 50% for those in service industry and 75% for those in the tourism and aviation industry. Employer can also apply and use the flexible work schedule or what we call is, thumb banking, where staff are picked now even though they do less work but put in extra hours later on for the record the Singapore government has released this new packages to help businesses to offset their costs another during this period. So, we are here and we all know that the government has already released 6.4 billion under the unity budget in February, 48 billion for the resilience budget in March and of course most recently 5.1 billion under solidarity budget in April. All these are in quicker session to help businesses to withstand the financial strain brought about by this preventive measure distributed to come back to the virus and mitigate the spread. Finally, I think the government has started progressive step for the vital circuit breaker measure. Over the coming weeks, HR leaders would now need to prepare for the savior gradual resumption of the economic and community activities after the end of the circuit breaker which is on first of June this year. The council will be putting in place safe management practices as an integral part of the company operations in practically identifying situation of practices which have high infections and maybe implementing appropriate precautions and safeguard. Thank you.
Absolutely, Tommy. Certainly like the number of avenues through which Singapore government is supporting various organization in this time is really commendable and say me a HR focus on skilling, upskilling, reskilling and then transforming the workforce to, kind of like emerge out and then fight the situation towards newer service lines, newer offeres, I think all of those things will really help the organizations to emerge out stronger and then rebounce back quickly. So, in this situation so like you talked about multiple avenues and then what HRs are doing, coming to specifically around engagement and productivity, what are all your thoughts and guidelines for HR in terms of how they can focus on employee engagement and productivity?
Tommy Ng: Okay as we also put into work from home as routine which is one of my business ideas as usual for quite some time.
Tommy Ng: Well, this was once an optional luxury. It is now a business imperative involving the use of the investment in technology on social media tool, collaboration platform to promote better communication and collaboration and company so as to enhance the productivity and improve engagement and business outcome, but Interestingly for many employers this is the first time that they are managing a remote workforce of this size and skill. So, if you are one of those employers, who are managing a remote workforce, I put together at least to guide you. I think, very importantly, the leaders have to provide direction. I think now more than ever, employees are relying on their leaders at all levels in the business to take action said and told and communicate. Leadership communication is critical right now, so don't worry about overdoing it. Communicate, communicate, communicate, communicate regularly with employees and you have to maintain an open dialogue with them. Secondly, I think it is important to establish structured check-in, a successful remote working arrangement require regular structured communication, so depending on the type of work being done, whether it is independent or collaborative and this can take the form of a series of one-to-one call or a team call. I think the opportunity to not only exchange will relive the update but also maybe remote social interaction such as spending maybe the first few minutes of your team call, to catch up with every one another, just like we did when we started this conversation. What is important really is that the all these calls have to be regular and consistent, so that your employees can be prepared for them and work them into their daily schedule. Thirdly, I think it's important for us to implement rules of engagement and to use a collaborative technology check program that's available. First, set the expectation on the frequency, the mode and the timing of the communication for your team. For example, you can establish a primary mode of communication say using video conferencing via Zoom, Skype, or Microsoft Teams for your regular check-in meeting, but you then can use maybe WhatsApp for more urgent matter, where you need to communicate immediately. Using chat programs allow for faster and more casual conversation that are also conducive for work discussion and reaches the physical discipline when working remotely. Collaborative technology such as Microsoft SharePoint and Google drive also hugely beneficial as they will provide secure place for you to collaborate and store information and files that we can then be easily assessed while working remotely. And the firstly which is very important is two-way communication. I think the key to success of fully remote team is consistent and transparent communication. It can be mean the difference between your team feeling isolated or feeling fully engaged and productive. While working remotely, it is crucial that people are updated, the managers seek out feedback, this is especially as the corona virus situation unfolds and change. A leader should ensure that there are multiple ways for you to reach out to your employee including chat program, mobile communication, email, if it is always better to err on the side of mobile communication and emotional high now and your team is going to take some time to adjust to this change, so set up an employee engagement policy to understand the general mood between your remote workforce, when you receive the feedback, you can enact and follow up through. And remember always show appreciation, yeah, yeah, your employer get to know and say personalized appreciation to the employee. In summary, this is very strange time that we're living through, a present where there are aerial challenges for all of us, but be rest assured as HR leader, and thanks to modern technology, you can keep your people engaged, and put up with the working remotely. The global pandemic will likely bring about a lasting and positive change and I think you can have people engaged and productive in the long run. So, stay safe, stay happy, and stay healthy and we will get through this together. Thank you.
Shankar: Absolutely, Tommy. Really very nice set of points. Once again, really wonderful, Tommy. Thank you very much. It's really good to learn from your wide experience. Thank you for all the suggestions and tips, and on how companies can manage the COVID situation and then emerge out stronger. Thank you very much. And dear listeners,
Tommy Ng: Thank you for inviting me.
Shankar: Absolutely, Tommy. It's our pleasure. Dear listeners, thank you for listening into this TalentCast, I am sure that this would be really helpful in your work rules and then, managing COVID in your organizations. Please stay tuned. And we would like to bring in wealth of experienced, like Tommy to you in near future. Thank you.