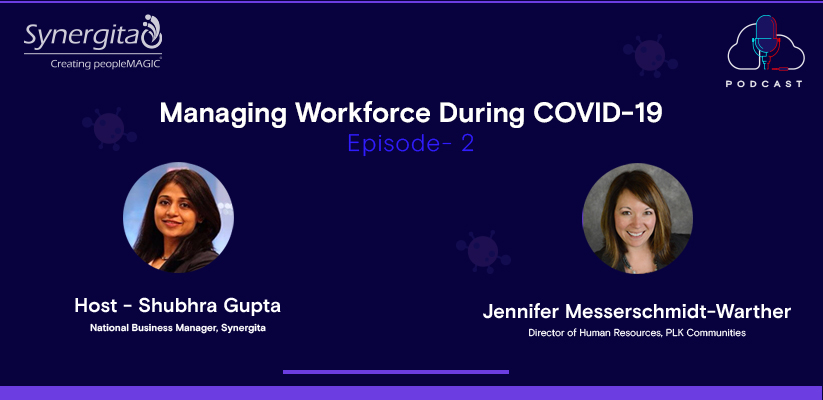 Managing Workforce During COVID-19
Jennifer started her career as an HR Assistant and achieved HR Director and executive leadership within 5 years. Jennifer has 14 years of progressive experience in HR and is a Certified Human Resources Professional with both PHR and SHRM-CP. Having mastered the full scope of HR functions and the development of effective HR systems, she joined PLK Communities. At PLK, she has risen to the strategic challenge of developing the HR function from the ground up including processes, systems, and PLK culture with the goal of attracting, developing, and retaining the best of the best talent in property management.
About PLK Communities:
PLK Communities (formerly Domain Equity), founded in 2001, originated as a real estate management company with a focus on multi-family and industrial properties. Through the years, the company expanded into ownership and management of retail, office, and self-storage facilities. Today, the main focus is the acquisition, redevelopment, and proactive management of multi-family properties to provide service, innovation, and value. PLK Communities, LLC has over 125 full-time associates and manages approximately 4,800 apartment units located in Ohio, Indiana and Northern Kentucky.
With an objective to go paperless, PLK communities opted for an innovative cloud-based performance management software, Synergita. The award-winning software now streamlines its business processes and operations. The HR department is able to focus on more important responsibilities for the development of the enterprise rather than being engaged in mundane administrative tasks.
TRANSCRIPTION
Welcome to Synergita's TalentCast.
COVID-19 is an unprecedented situation that has forced the whole world into deep sorrow and fear. Before beginning I would like to say a few things to everyone out there. Follow the local public health guidelines. Maintain social distancing. And stay safe.
I'm Shubra, the host for today's episode.
This is a special episode to discuss future HR plans post Corona virus pandemic.
And I'm here with Mrs. Jennifer Messerschmidt-Warther, director of human resources at PLK communities. PLK communities is a Premier developer, owner, and manager of residential properties. They specialise in the development, acquisition, and redevelopment in management of high quality apartment communities.
Jennifer has been with PLK for 5 years and has 14 years of progressive experience in HR. Welcome, Jennifer and thank you for your time.
Jennifer: Thank you so much for having me.
Shubra: Awesome.
So my first question to you is: Coronavirus has created grave social and econonmic reprecussions. How huge is its impact on PLK especially the HR department for PLK?
Jennifer: So it really has had a been big impact on us PLK. We own apartment communities. We are in the multifamily industry, so we are providing homes for people so that obviously becomes considered an essential business. All of our employees are still working, which is huge, and most of them are still working on site. They're still reporting into those apartment communities day in and day out for their jobs. That has resulted in having to tend to a lot of other things, take a lot of other precautions, in particular safety, so we've been cleaning a lot. We've been watching the distancing guidelines. And if anyone is showing signs or symptoms of illness, we have been on high alert with that and sending them home, monitoring carefully, doing all of those things. I would say the biggest changes that we've had have been to our onsite operations, so we typically have leasing consultants, property managers on site. They're conducting leasing tours. They are welcoming prospects. They are tending to resident needs. So the leasing officers… they're not having any public contact with residents anymore. They are taking all of their tours virtually doing FaceTime tours and all payments are done online. We have no cash or in person payments anymore. Maintenance, same thing, we've limited their contact with the public and with residents in occupied units as much as possible, for their safety as well, as for the safety of the residents. So what that looks like is emergency work orders only and we have some pretty strict parameters around what emergency looks like. Those measures for keeping our team members safe and but still operational. We provided PPE (Personal Protective Equipment) for the maintenance teams, so gloves, mask and again trying to keep things clean and sanitised like everyone is trying to do right now. But the other thing that has been kind of surprising is, some upset residents there, wanting that face to face contact, they're wanting to be able to go in and talk to the property manager, they are all feeling very scared and frustrated and not understanding why we can't just come out of all of this craziness and be normal again and talk to each other face to face. So we've really been working through some challenges there. And then, specifically for me and the HR Department, one of the biggest things has been a ton of learning. I mean, the amount of time that I have spent in the last what, four weeks especially, educating myself on the new regulations, keeping any new CDC guidance. I've been watching webinars non stop, reading. I have a very large HR round table group that I'm connected with, and so we are constantly emailing each other for best practices, guidance, just bouncing questions off of one another, so that has been the majority of where my time has been spent in the last few weeks.
Yeah, that's definitely huge, right. I mean, it's a lot of changes, for sure. So the next question is definitely in line with organizations obviously, as you said, need to protect their employees and a lot of them have given the option of work from home… So in PLK, what percentage of your employees were kind of working from home remotely previously, and what kind of change have you seen and did you have a defined work from home policy before?
Jennifer: Yeah, we did not actually have a work from home policy before, nothing that was defined, and we had very very few people who were previously working from home, and who kind of had the ability to work from home a day here or a day there as they needed to, within their schedules. We, as i said earlier, own apartment communities, so we have a couple dozen apartment communities out there, spread across multiple locations, and obviously, all of those folks have to report in. They, they have to be there in order to maintain the integrity of the communities. So it's only really been our, the majority of our corporate team, and a handful of others, who have had some childcare restraints, who are now working from home, so call it maybe 30 out of 146 associates who were working from home. As i said before, the rest of them are still reporting into the sights, and again, we didn't have a policy before because there were so few like it was really the exception and not necessarily the rule and were also just generally speaking a high touch very face to face industry and organization as a whole.
Now definitely makes sense. Considering the nature of the business, it's obviously deemed to be more face to face, but also a lot of work on you in terms of really working so many employees from no work from home truly work from home, right?
Jennifer: Right, yeah.
Okay, so that brings me to my next question: So how did you extend the work from home policy to your workforce in such a less time and again considering the nature of the business, it definitely is hard for everyone to be remote, isn't it?
Jennifer: Yeah, yeah that's a great question. So for the folks who did shift to working from home, that part wasn't a big stretch necessarily, so they went from working, doing their electronic, their computer based job in the corporate office to doing it from home. They took a few things home. I, myself, brought home my docking station and one of my 2 monitors and initially, no one anticipated having to have these kind of temporary setups for more than two weeks maybe, and of course, now we're looking at least six weeks, so it's definitely evolved into something a little more long term than we initially envisioned, it's been a big adjustment, I will say, it is, in some regards, it feels a little lonely because we had a large team and just seeing, even if you didn't actually necessarily talk to each other every day, you saw each other's faces every day, you passed in the break room, and all those sorts of little interactions that you don't get anymore. It's also been odd working with family members at home. My husband was working from home for a while as well, so we had kind of competing stuff going on. There was some email before, some phone, some pop into the office and talk to you, but now it's a lot of email which can be really cumbersome and not always feel very efficient. And we are still again very face-to-face high touch company, so we're a little behind the curve on the web meetings and getting adapted to that, but we have made sure to schedule time for a few virtual happy hours to kind of see everybody's faces again and reconnect.
Yeah…no… I totally agree that human face-to-face interaction, human touch is something, which is absolutely something we also miss. Synergita being software as a service company tech company, we are used to doing online meetings, but it still kinda feels like a big part of you missing and there's always backlog, right? Have so many emails to answer, and it's very difficult to get on the same page, getting everyone in the meeting at the same time instead of just having a coffee conversation or bumping into each other kind of thing.
Jennifer: Absolutely
Yeah, what are the challenges you encountered and the solutions you found to overcome them?
Jennifer: So I think one of the big challenges has been keeping folks feeling calm and safe and informed. They're very afraid at the moment. They're very confused. There is not one clear specific answer on what is going on with this virus? And then on top of that, people are afraid for what it means for their jobs and for their homes and their families and their finances and so the biggest thing that we found to be necessary and effective early on was communication. A ton of communication. We have, even before we knew, what the FFCRA was going to look like, what kind of pay protections it was going to provide, we were already communicating with our team members about what, perhaps, their first paychecks with a sick leave on it might look like. And we have communicated and over communicated around safety precautions and safety guidelines and measures how to respond to residents. We get residents wanting to know if we are going to tell them if someone tests positive in one of our communities. And our biggest tool, so to speak, to help combat that has really been communication. And then the other thing that we've added to it is extra intentional positive and uplifting communications RCO, Omega, Mahaan she started. It was maybe at the end of our first week being stay at home here in Ohio and had the weekend to think about what was going on and just really felt like it was imperative to share some positivity and so she started this kind of recurring email blast called positive spotlight, where team members from across the company were all invited to participate to submit to her, what are we doing to make the best of the situation? What are the extra games that work with our kids that we did before the movies that were watching or what is the playlist for listening to? What are we doing on site, the folks who are still reporting in? What are they doing to keep their team spirits up and just keep things interesting and exciting still, so that has been a really really huge thing that we have put a lot of focus and energy on. And even with our residents, we have had a lot of communication crafted specifically for them again to see, 'oh! oh! she did a YouTube video' one day to try to answer some of the questions that were coming in just to give that face and that sincerity and help to calm those fears and questions. And then I think for me, I mentioned it earlier that one of the biggest challenges has been making the judgement calls of keeping people at home or telling them to go home. I've got the sniffles today or I have a low grade fever or I have this cough and navigating all of that to where, you're making sure that you're making the best decisions to keep the workplace safe, but that you're also not going too far the other way of it. That has really relied our independence on the constantly educating and keeping up on the latest guidelines. When you add the paid leaves on top of it from the FFCRA, other things that have come in with the carers act and then i had the pleasure of diving in a little bit into the PPPL, the Paycheck Protection Program Loans, that it's been a lot, for sure, but again that's really how I figured out for how I've been able to kind of stay above it all, stay on top of it all.
Now and that definitely is a lot of work indefinitely. All our friends in HR here can feel the same way, I believe, in terms of being the plates full, but I do appreciate all the proactiveness you're showing, in terms of the residents, employees, and the work you're putting in to keep things going.
Jennifer: Thank you.
So Jennifer that brings me to my next question: I know we all understand that it's very tough to predict what's next, but you know definitely there, have you thought about or you have any ideas, plans, approach you're eyeing on or looking at execute post COVID-19.
Jennifer: Oh, jeez! Is there a post COVID-19? Fingers are crossed, but there is. I mean, honestly, somewhat jokingly for the moment we're really just trying to get through the now and keep up with day to day and the constant changes. I am confident that they will come out of this with different perspectives and philosophies and strategies on reporting into the office versus being able to work from home.
Correct. So, do you think that it is time for companies to revise their policies in, define how much flexibility they should give to their employees?
Jennifer: Yeah, absolutely. But I don't think that anyone even dreamed of a scenario like this and so it really is imperative for companies to stay on top of their policies and making sure that they are written in a way that they are covering, a multitude of scenarios but that they're also adaptable to whatever situation might come down the Pike. You asked about the flexibility for employees. I feel like flexibility is kind of a relative thing, so some industries and roles, they just simply necessitate onsite work, right? Some rules and operations require specific hours and that sort of thing. Flexibility is important now because of the uncertainty and the unfamiliarity and the constant changes that we're dealing with, the stress and the fear and stuff like that, we've simply just made it a priority and we've made it an important thing that we are adapting to whether we want to or not, right?
No… I totally agree specially my husband is in operations, and it's almost impossible for him to just stay home and work. So it's definitely necessary-based and line of work based so moving on to the HR management part of things, right? So what are your plans on paperless HR management? Will there be any policy change in regards to digitization of HR?
Jennifer: Yeah, it's funny that you say that because that is actually already on my list, before all of this came up, going paperless was tops on my list for 2020. So I've been implementing different things already over the years, so our recruiting process, we implemented an applicant tracking system so all of that is digital. We have transition to online onboarding, so all of that is digital. We, last year, implemented a web-based benefit administration system as well as a Wellness compliance partner that is web based. We most recently as you know implemented a web based performance management system with Synergita so getting rid of those old clunky ugly paper forms and that format so that is definitely the way not just in HR but in our company as a whole, we have constantly been trying to move toward those more web-based cloud-based paperless functions. It's honestly part of what has made us so quickly adapting our leasing offices and in our operations as well because we had all of those things set up already. We already had online payment setup. We already had resident portal setup. We had all of these things already in place that made it so easy for us to shift pretty quickly into fully virtual. So next up for me though as I was saying, for 2020, is full electronic record keeping. So, obviously I've been delayed a little bit in my efforts there, but it will definitely be coming down the Pike for 2020.
But I have to congratulate you on how you've done so much digitization. It definitely takes time to move and adapt technology so I'm sure you're going to get that and thank you so much for trusting Synergita for your performance management and we are very glad to be your partner. So the next thing is primarily on the electronic signatures. So does your organization use or plan to use electronic signatures in HR?
Jennifer: Yeah so certainly with whatever that recordkeeping system looks like, signatures will be a part of it, but already we have those in place in a few places, so from what I mentioned before, in our offer letters with our online applicant tracking system, those offer letter signatures are now digital as well as in our onboarding process. So all of the new hire paperwork is then is completed and signed digitally as well as acknowledgements for the policies and procedures.
Got it, okay. And any parting comments for your HR friends listening to this podcast?
Jennifer: I can't say it enough, but I can't emphasise enough how important it is to stay informed of the latest changes that are happening with all of this. I encourage everyone to stay nimble and adaptable in your policies. I encourage everyone to stay in contact with your people, as i said, your people are what drive your organization. You cannot have your business, your company, or organization without them. So stay connected with them. Communicate with them, overcommunicate with them, praise them, reassure them, whatever it is you can do to take care of them and stay connected with them. And also stay connected with your HR circles like I said my HR round table has been a I mean I can't even imagine having gone through the last few weeks without having the breadth and depth of knowledge that comes from that group of amazing professionals and then the last thing, just stay safe and take care of you. Make sure that you are paying attention to self care.
Certainly and that's the most important thing. Self care, careful people around us, and stay informed. Awesome. So thank you, Jennifer. Thank you so much for all your insights. It was such a pleasure chatting.
Jennifer: Thank you very very much for having me. I can't tell you how much I appreciate it. It's really an honour.
Thank you so much. It was great honor to have you. Thank you all for hearing us and stay safe out there. Thank you for listening.