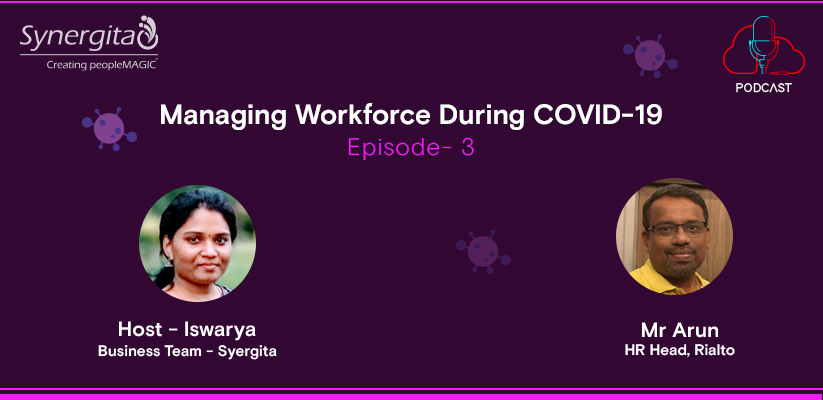 Managing Workforce During COVID-19
GR Arun, HR head of Rialto Enterprises Private Limited, is an expert in HR practices and processes. Having worked in different sectors like power and automobile, Arun has 15 years of experience in the field of HR. He has experience working as a HR decision-maker in different companies such as ABB, General Motors, Renault Nissan & Visteon. He is specialized in Recruitment, Employee relations training, Performance management systems, employee engagement, and Statutory compliance.
About Rialto Enterprises Private Limited
Rialto Enterprises Limited, headquartered in Chennai, has been named as one of the 12 companies which are the top suppliers of the year 2016 by Proctor & Gamble. Rialto makes oral-care products for the multinational. Rialto is P&G's largest partner in the world for manual oral products (Oral-B). Its products match global quality standards, and it is the only site in the world, which produces IP-protected products. "We have been recognized as 'excellent business partner' of the year for the last five years for our good performance. The latest is the Oscar of the awards P&G gives," says the founder chairman of Rialto Enterprises, Chander Swamy.
Rialto has streamlined its appraisal process, business operations, and HR functions with Synergita, an innovative cloud-based performance management software.
Transcription
Iswarya: Welcome to Synergita's TalentCast. As you all know, covid-19 is an unprecedented situation that has forced the whole world into deep sorrow and fear. Before beginning, I would like to say a few things to everyone out there. Follow the local public health guidelines, maintain social distancing, stay safe and healthy.
I'm Iswarya the host of this episode.
This is a special episode to discuss future HR plans post coronavirus pandemic.
And I'm here with Mr. Arun, Rialto HR head, with 15 years of experience in HR field. He has a strong experience in manufacturing and automobile Industries. To Quick introduction about Rialto, they are manufacturing unit of PnG group. Rialto uses Synergita for continuous Employee Engagement and Performance Management for over a year.
Welcome Arun for this podcast and thank you for joining this session.
Arun: Thanks, Iswarya, for the quick introduction.
Iswarya: Awesome.
So, my first question to you is Corona virus has created a grave social and economic effect. How huge is its impact on Rialto and mainly HR department in your organization?
Arun: Okay. I think this is one of the predominant questions which is going around now, Iswarya. Covid-19, otherwise known as coronavirus, is in many ways unprecedented in the modern times and it has also got a very dubious record in many first, like having a complete lockdown, exponential spread, and none of the country is bad, whether in terms of the economy or scale of spread. Okay, the impact for organizations can be quickly categorized into three. So as the foremost one is the safety and health of the employees is one of the major impact, because of the speed with which the virus is spreading around. This is one of the major impacts for all the organization across the world, and it is no different for Rialto. The second impact is with respect to the financial impact because of the almost standstill economic activity in many of the organizations and the sectors. So, that is one of the second and third one is the long-term business impact because we're not sure how long this is going to continue and what would be the implication in the long-term basis. So, these are the three impacts general for any organization and this applies to Rialto also. And for HR, the most concern is about the safety and wellbeing of our employees, their families to ensure and also to ensure we do not shortfall or become non-compliant in any of this stuff regulations which are coming day in and day out so this is what I can sum it up with respect to the impact of COVID-19 is concerned.
Considering your nature of business is manufacturing, how did you manage your operation and how did worked it for you Arun?
ARUN: With respect to our organization was concerned, since we are the oral care unit so we are somewhere in between the medical and the fast-moving consumer goods sectors. So, we were very really cautious as and when in December 2019 it started spreading in China. So, we started preparing right from January earnestly. And couple of things we did was we carried out our PCP reviews very religiously and we also conducted certain mock drills in case of lockdown what would happen to the business and to our manufacturing sector. So these were the two things initially we did and we did it very religiously so that by the time the March when the lockdown was actually announced so we were very prepared not what we're supposed to do and we had put in the process and procedures in place. And third thing which we did to manage was to have the communications open with respect to our customers first place and then the stakeholders and the other vendors who are dependent on us, o our manufacturing unit. So, this has actually helped us, kind of sail through till now, till April yes, we're kind of in place and our plans are going as per the expectations. So that is what with respect to our operations is concerned, but one significant thing which I noticed was the entire connection or the communication we had shared with our customer and they were very happy and then we were already transparent with them based on the ground realities. So, we ensure the customer satisfaction was there and the business continuity is in place.
I would like to ask you the most important question is what are the challenges you encountered and solution you point to overcome it?
ARUN: Yeah when we hear usually the word crisis so the first thing which I could remember is somewhere sometime our first Prime Minister Pandit Nehru had told, "Even small things matter big during crisis," so I was very particular about what are the things we're going to do and we had thought of more than twice and we brainstorm before implementing anything during this crisis period. So but whatever thing was done, first objective was to establish a clear communication with our employees not only our own employees but also our people who are dependent on us who like the essential service vendors their manpower, so we wanted to have a clear link of communication. So, we know where everybody stands even during this kind of lockdown or when we are not able to meet them in person, so that was the first priority for us. With that start, we started to list down various activities and we carried out the actions diligently. First, as I said, with respect to communication and second, respect to prevention of this spread, taking preventative precautionary measures within the plant, and the vicinity to ensure we're kind of protected against this viral spread. So, you know that there should be a lot of training which needs to be conducted for employees so we insured before March like 100% of all our employees were trained on what on hand hygiene, respiratory hygiene and what are the precautions they need to take in case of a lockdown. So, this helps us know where we were one step ahead before the lockdown with respect to the employees awareness at least was concerned. And then with respect to the regular meetings and other things we set up the frequency with the senior management, with the vendors, and everybody so that everybody is aligned which time to connect, everyday same time was used so that there is regular communication between all the employees across departments and also vendors and customers. So, this helps us to streamline the communication or information flow within the organization. And coming to the needs perspective was concerned so we are very clear when to release the salary so in fact we advanced the release of salaries and payments so that the onset of lockdown, people don't have to really run around for the cash and only basic necessities. So once this was taken care of and the lockdown period was not that much difficult to tackle since the basic issues were addressed.
If the lockdown or remote working continues for a while, how did you plan to manage your workforce and measure their performance and productivity?
ARUN: See, this is a really a scary question for me because already we are in the second stage of lockdown extension. I think for manufacturing unless we work down at the shop floor, work goes on, we not having anything to say with respect to performance or productivity. So, we are putting our best efforts to ensure the even when there is some scope of resuming the activity at shop floor. We will be going ahead and doing it because of the precautionary measures which have already taken and whatever is prescribed is available for us to go ahead even with the restricted code. So, that is what we hope and pray for. But with respect to working from home or monitoring the staff performance is concerned, we have of course your tool Synergita to do a monthly appraisal so we do not have any issues with respect to our monthly appraisals or feedback or communication is concerned. So that way measuring the performance or feedback was not an issue at all for us during this breakdown. But, however, specific to manufacturing it is very important that we resume the operations with at least limited and restricted manpower, so that we can support our customer on their orders. Other things which we've listed out is yes, of course, these performance monitoring system uses flexibility in terms of working hours, because we need not, for the office staff at least, we do not have fixed time, they can work and finish their assignments on time within the target dates working from home and also trying to know little bit tweak around the shift timings off the people who are doing the minimal work at the plant so that they are maintaining the social distancing and then we are able to take the necessary actions for them.
Exactly, you are right. Do you have any learning from these phases which can be shared to other mitigate the risk during such emergency situation like this?
ARUN: Yeah, I think not with respect to me are Rialto is concerned, I think everybody would have their own set of learnings because every situation every business is unique in its own way. For us, I can because we have been doing a lot of documentation, we have been doing a lot of work around what we're actually doing, listing down, putting procedures in place, so there are a few things which I can share to my colleagues which we learned during the crisis. So, first thing is important to anticipate and plan ahead because we knew somewhere in December and January this is going to come, because the way it got spread in China, we were well prepared so it is for us to learn from this that we need to anticipate and plan ahead. Second is very important thing is we need to have the BCPs in place and we need to review it very frequently and then do a diligent job with respect to really was concerned. I think this helped us in a big way because everyone was clear about what needs to be done now when we implemented our mock drill of these BCPs. So, these two things are very important and then of course as I said it is important to document all the processes and procedures so that when we have to if it continues maybe we know what we need to do, we need not reinvent the wheel again and again. And the fourth point which is very important is to keep everybody informed of the process and procedures. When you share the communication, it reduces a lot of mistrust or though the conflict which is going to occur within the teams which are working remotely. I think it is very important for us to keep the communication channel open and be transparent in the processes what we're doing so that will save you a lot of time and effort when people are working remotely from their works.
We understand that this is a tough to predict what next. However, what will be your futuristic approach for post COVID-19?
ARUN: Yeah, with respect to the futuristic approach post COVID, it is very difficult to predict our forecast but as a HR person what I'd be more interested and would be learning to understand is how do employees behave during the crisis and post the crisis. Because that would give me a rough indication of what I should be doing with respect to their behavior and understanding their behavior and their needs is most important for me. So, I think now there are various tools which are available online and now with the onset of cloud technology deliverables, I think we are using certain tools which are helping us to capture and understand this much better. With respect to business is concerned, I think with the various podcasts and webinars which I've been listening through this month, I think almost we have every alternate day we have some webinars or the others happening. And then the important thing I learned is it is very important for us to understand the customer behavior, how does the end customer behave for you. So that is going to be a determiner of our future plans and forecasts, so that would happen with respect to the technologies with what we have I think that the businesses should be able to kind of gauge the customer behavior. And the third Point which is much more important for our survival is to take care of the cash flow because that is going to be the survival rather than the profit so cash flow is going to be important metric or measurable, which business is going to continue. If it is going to continue for some more time, I think that would be the key to determine whether business survives or otherwise. So, that's what I can currently say with respect to this tough situation. But, however, we are very optimistic that this is going to change and change and we're going to bounce back with full potential is what we're expecting.
Yes, Definitely Arun, hope situation gets normal soon. What are your plans for paperless HR management? Will there be any policy change in regards to digitalization of HR? Do you think HR tech makes it easier for organizations to pass through the tough times?
ARUN: I think the advent of HR technologies into the marketplace has started, I think, 34 years back itself and of course nobody would have thought of these online cloud based technology will help us to not die through the crisis that should have now been not been anybody start in the 1st place but however I think now it is not only to do to go it but even otherwise the HR leaders are now a kind of putting a lot of emphasis on investment in this kind of technologies because now these people have already got invested in these technologies are reaping the benefits of it I think the way the HR is looked at as being a not transactional or being the people who are more of process owners would be kind of changed after this and they would get a lot of focus with respect to their tools and how we are able to manage because this scenario might slightly change after the crisis. Apparently, both the business leaders on the HR leaders would agree upon a common no technology platforms or platforms which now gives a lot of freedom and flexibility to operate so that would be the key determiner of course the security part comes add on with any system so if the technologies are able to assist in these three factors I think we can see a rapid change post COVID-19 with respect to the paperless or online HR transactions are concerned.
ISWARYA: Do you think that this is the time for companies to revise their policies and how much flexibility should they to give to their employees and what is your opinion in this?
ARUN: I think HR policies are so old, I don't think any of the companies are there would be no investing their time to revisit all the policies of course yes they would be looking at two or two or three policies or procedures right now because of the priorities what we have right now may be the processes in late to work from home the procedure to be followed during the crisis I think every company would be revisiting these two items at least during this time and I strongly believe company HR policies nowadays are flexible and open it is not that now something which is an active 10 years back and people start good idea I think HR policies are being very employee centric now with most of the organisation I don't think in case there is anything to be changed that can be done even in normal time so I think the focus would be much more into providing the flexibility, business continuity and also keeping the health of the employees at fore-front, this what my view is.
business continuity and also keeping the health of the employees at the forefront. That's what my view is.
Right. What is HR reaction across the industry which is like new development? How equipped they are to handle this sudden disruption?
Arun: As I said, everybody who have interacted during the crisis, the HR professionals and the HR leaders, wherever we have interacted, so they are only telling these two things: What crisis means in China that is Chinese, it is one representing danger and another representing opportunity. So, everybody is talking about these two things, of course, yes, there is a danger and there is also an opportunity. First, I will tell about little bit about the danger what we have during this crisis. It is very very, this kind of situation calls for very difficult actions or measures which organization need to take. You should be already hearing about reduction of salaries, reduction of headcount, and doing certain austerity measures for organization, so that they kind of survive through this. As I mentioned, cash flow would be the important thing, so they would be taking a lot of things, they would be looking into a lot of expenses to curtail or no kind of postpone. So, these things are very very difficult and if HR is not able to handle those situations and I think it might blow out of situation, out of proportion, so that they instead of gaining positive publicity, they might end up in the negative side. So, that holds a danger. And other danger what might come up with respect to health front is the HR guys have to take care of their own self, their family, but also the expectation of the employees and their families and the organization as a whole. It is going to be really tough time and HR need to be very cautious during this time. As i said earlier whatever small things you do either positive or negative might be blown out of proportion this point in time, so it is very important we are aware of this danger. Nothing kind of scary but again to be very cautious, but this also presents lot of opportunities for the HR. So, I can list down the top five things what HR can do in this time of crisis. First is, they can, for their employees, they are their customers so they can show their human side of it. It is not the cold HR hands; it is always, now, we can show the warm and being there for everyone in the organization. So there is a lot of opportunity to show our human side of things, even a simple phone call might result in a very very positive mindset among the employees that yes HR does care for us in terms of connecting even a 3 minutes or 4 minutes call would do a great help in this. And second is, during these times of crisis, it is very important for HR professionals to show their leadership in terms of mitigating the risks for the organization and also acting as a central node for crisis operation something like emergency call center, how it operates so you kind of have to be very very active and agile and what happens in the organization. We need to have a tap on it very more than normal times so that would be present itself as a very good opportunity. And third would be, we can also show to employees that companies hold their values very dearly to them so not that only it is looking for profit and business maybe we can add couple of things and reinforce your culture and values in the organization. You can show it, display it so that people understand it much better now. And fourth opportunity would be, you have a lot of time with the managers and you can do a lot of potential assessments or talent management sessions, reskill with your workforce with trainings and also you can also learn because this kind of crisis brings out lot of hidden potential of employees, so you need to be very partial of those, utilize those potentials whatever the things they display. And now you understand your team better and which also results in understanding your organization much better in terms of the business, in terms of the employees, so this would be a very unique opportunity for HR to know daily prove their mettle in these crisis times.
Right, all these are very valid points, Arun. So, my last question is, any parting comments for our HR friends listening to this podcast, Arun?
Arun: Yeah, I think with whatever I have…we have gone through this lockdown period and whatever I heard from people, my HR leaders, my own internal organization leaders, I can put it into just three points, so I can just summarize, so HR have to be during this time, have to be an evangelist spreading positivity in the organization through their communication, through the networks and also ensure that nobody in the organization feels left alone in the entire process, so that you should be the evangelist for the organization. Spread positivity not only to your own organization and it may even extend to the society around where you're operating a business. And second is to ensure how do you kind of support your business as a true business partner and ensuring the business continuity is there and also it is also a unique opportunity where even the customers can feel, 'yes! HR and the organizations are now focusing on their business and ensuring that the business continuity's kept alive.' And third is also provide leadership with a lot of consultants. You can act as consultants providing direction for leadership and the employees and the managers very old to how to sail through this crisis. I think these three would be the things which I can tell a summary so that every HR personnel who is fighting it out during the crisis can take few bits for into take it further.
Iswarya. Thank you very much for your insights. And it was a pleasure chatting with you. Thank you all for hearing us. We will be posting many interesting podcast interviews in coming days. Keep watching stay safe and healthy.