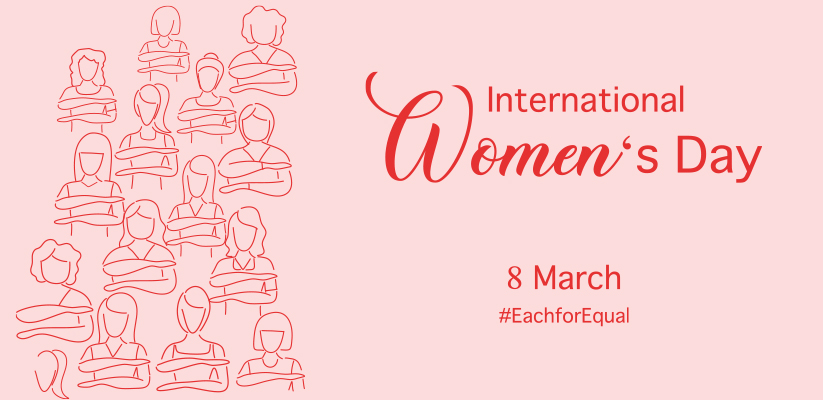 Fun Ideas to Celebrate Your Women Workforce This International Women's Day
A Personal Experience for You
I texted my friends whom I met at a New Year's Eve party and ever been best buddies. One of my friends is a new mom. Her child is just 3 months old. The other friend has got two pretty kids. We often speak about parties and fun stuff. We hardly discuss families and career aspirations. But this conversation somehow took to that part of life. When I had chosen to build a strong career for myself, I came across various problems in the name of culture and tradition. I still strive to get an identity for myself despite personal and physical aches.
I would like to share our group chat conversation with you.
Me: Hey! Hi New mom. How are you doing? 😍
Lisa: You know how excited I was. Now all my excitement is gone because of the desperation and exhaustion that fell upon me when I tried to maintain a balance in my personal and professional lives. 😕😓
Nikki: I totally understand her. I went through all those problems and I am still going through. I cannot expect my husband and others to come to my rescue all the time. Argh!! That's depressing.
Me: Your kids love you so much, and you are an exemplary employee. Then, what's it?
Nikki: I had sleepless nights to come to this position😞. I have to work even harder to be a good mom to my amazingly growing children, and also, I have to maintain my work position too. 🤦
Lisa: 🙄😫😫 I have so much to do. I should prepare my mind at the earliest…Help me girls!!!
Nikki: Don't worry, Lisa. We will help you. There is still so much we can do. Let's do it. Never lose determination 🤗.
And they went on and on.
At that moment, I realized the true strength of women. Women all around the world face problems in addition to the existing ones. Still, they strive the hardest to win. There is nothing they can't do. There are times where they should even hide their emotional pain and go ahead with their routine work. They are multi-taskers, emotionally strong, and capable.
For the first time in my life, I felt proud to be a WOMAN.
A day for Women:
"If winter comes, can spring be far behind?"
The winter is departing, and the spring is approaching. The women empowerment is being done right so far!! Let us continue the fight and take a day to celebrate all the women on 8th March, International Women's Day. Let us respect their choices and the paths they have taken.
Here are a few ways to celebrate the women at your workplace.
Themed costume party:
Every great day has a theme. Let the themed costume party begin the day for your enthusiastic workforce. Ask them to wear a costume that represents a great woman personality.
Crafting Handmade Cards:
Conduct a competition to choose the best handmade card that has inspiring lines for commitment and development. Make a card string with all the cards made and hang it on the wall for display. Let the handmade cards include the photo of the employee who has made them.
Foosball Tournament:
A foosball tournament would be exciting and fun. Let your women employees have a foosball tournament. The focus should be more on the entertainment and merrymaking than on the competition.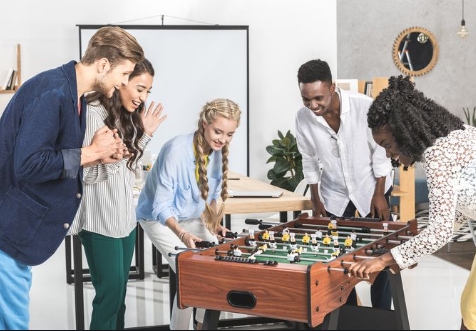 Gratifying Special Lunch:
A fulfilling delicious lunch! It is very important for any event. Food plays a vital role in deciding the success of a fest, event, or celebration all around the world. Offer a lip-smacking lunch experience for your employees.

Why not a Movie Together?
Watch a women-centric inspiring movie together. I would suggest 'Hidden Figures.' A realistic superheroes women movie. Watch the movie and share your comments below. We would be delighted to hear about your experience.
A Quote by a Man:
Men would be happy to be a part of the celebrations. Request them to be the organizers and judges of the events and costume party. Ask them to write a quote and present it to the women employees toward the end of the happy day. It would be a seed for an open collaborative work culture at your organization.
Speech by an Inspirational Woman:
End the day with an inspirational speech. Invite an influential woman personality to your organization to motivate the women workforce. Even the tired souls become determined if the delivered words are powerful.
Cheer for your women workforce in the upcoming International Women's day.
#EachforEqual. Collectively work for gender equality and stand as an organizational epitome for equality.