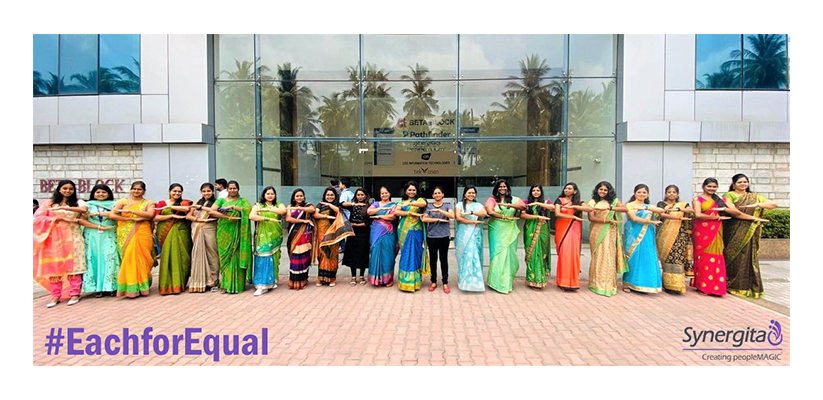 Women's Day Celebration
Synergita had announced its move to a new location earlier this year. Learn more at https://www.synergita.com/blog/happy-new-start-at-new-location-synergita/.
The first celebration in our new workplace! International Women's Day #EachforEqual. Synergita had set a weeklong celebration filled with fun activities for the women employees. The contests and performance brought out the energy and creativity in everyone. Synergita also invited a woman guest speaker to inspire the workforce.
"In my years of experience, I have never come across an organization that has celebrated women for a whole week with amusing events."
-Gayathri, Senior Executive, Marketing
The most appreciated part of the revels is inclusivity. The male employees of Synergita actively and ardently indulged in organizing various events.
Foosball Tournament:
"It was fun. When it comes to games and tournaments, women are usually excluded. But here, in Synergita, a Foosball tournament for women. The announcement made us pretty excited."
-Iswarya, Senior BDE
The Foosball tournament brought in healthy competition amongst teams and ensured collaboration among team members. The non-participants, including men, cheered for their team's players with great enthusiasm. There were at least two participants in a squad representing their teams.
Dumb Charades:
Dumb charades have always been the 80s and 90s kids favorite. Making it a part of the events led by a corporate space made us jubilant. The organizers included onerous movie names and songs' beginnings to make it challenging, and it was too hard for the partakers to enact. Every woman in the company participated and did their best. The sight was amazing because the team members coordinated well and encouraged one another regardless of the performance.
Flower Rangoli
Flower Rangolis are quite common. But how creative those Rangolis are made all the difference. Synergita women proved that the best can be done with those petite pretty flowers. The themes of the Rangolis were empowered women, child infanticide, and women's everyday aches, etc. The Rangolis themselves are explainable of the themes, and the words were unnecessary.
"Initially, we did not like the flower Rangoli contest, because none in our team knew how to do it. Since it was a contest, we did not want to back out. We did our best and we realized how competitive and creative our minds were."
-Lalitha, Executive, Development
Treasure Hunt:
The treasure hunt is a really good exercise (just kidding) because women were running around with clues in their hands and looking for symbols. It was really entertaining and beguiling to watch them find symbols. Others, including managers, helped the women employees by giving them obvious hints. Employees were happy with big smiles on their faces.
Cook Without Fire:
Without food, there is neither a contest nor an event. What surprises everyone is delicious food without fire. Is it possible? Synergita women made it possible with their yummy lip-smacking snacks. Elaneer payasam, Farmer's melon cheese, orange mania shots, strawberry yogurt, avil halwa, etc., even the names are mouth-watering.
International Women's Day Celebration (Last Friday):
The most awaited day had arrived. The inspiring guest speaker is a leading gynecologist, Dr. Balakumari. She taught the employees the ways to be happy and the significance of physical, mental, and social health. The speech was interesting, and she motivated everyone with her golden words.
"Happiness is all about mindset. You can be unhappy despite having everything, and also you can be happy even when you have nothing."
-Dr.Balakumari
After the energizing speech, the organization gave everyone the time to enjoy. The young women in the organization staged different performances such as dance and group singing. Later, the celebration ended with a DJ evening. The most memorable part of the day!