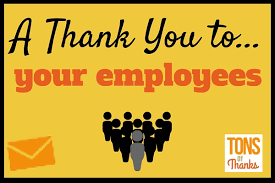 Happy Thanksgiving Day ! Isn't it meant for your employees too?
We celebrate many festivals every year. We celebrate it with our family and friends. There are even specific days such as Father's day, Mother's day, Friend's day and many others on which we gift our loved ones, take them out for a lunch or do something that makes them feel they are special. Unlike these days, we have a day that makes all of us thankful to something or even everything around us – The Thanksgiving Day.
On this day, we express our gratitude to someone who has really been through our thicks and thins all these years. However the ones who share your worries and elevate you towards success can be your loved ones (who else will?) – your parents or better –half or your children or even friends may be. You would have thanked your wife for taking care of your children playing a father too, you would have thanked your parents who have made you a great man, and you would have thanked your friends for standing by you when you were down.
But there are people that you left behind on this day. They are none other than your employees. Don't you think they owe your success? When it comes to business, we are always mindful about thanking our customers, partners, and investors but on this Thanksgiving Day, I think we should not forget to thank our Employees.They have been our pillars of strength in the toughest of our times, haven't they? We hope to conquer the world with them by our side. Isn't it fair that we say thank you to them?
Celebrate this thanksgiving day with your employees who worked round the clock to accomplish an important task, who spent sleepless nights at office desk for an urgent roll out (who even slept at office desk sometimes), who skipped their meal over a client call, who let go their holidays to serve your organization, who did not want to take a casual leave on a busy project day, who compromised on their weekends on a tight schedule at work, who broke promises given to their kids that they'll be back home on Christmas and I have lots to line up to this list.
Is it thanks giving that you should do it only on this day? Or is it just saying thanks? I don't think so. Employees don't expect a thanks from their bosses, but what they do expect is "Well done, John. Keep up the great work" kind of emails, "This time the Star Performer trophy goes to Mike" kind of announcements, "Pete gets a vacation package worth 500$ for the new customer win" kind of surprises.
Employees work hard most of the times, they multitask to complete a task within deadline. They do it for few reasons, to earn credibility from the employer, because they feel that it is their due responsibility and most importantly they do it for their self-satisfaction. For all of this, what they look forward to is a simple word of appreciation. A simple recognition of their effort is all that is needed to keep them going.
If you've got a feeling of conveying your thanks to your employees, from now on start praising your employees for their hard work. Appreciate their effort and by doing this you are making them better. Let's take a turn from the cliché way of celebrating thanksgiving every time.
So let's make this Thanksgiving Day a special one for our employees, we shall make an effort to stretch our hands out to thank our employees for their hard work, for holding together during tough times, for working round the clock and joining hands for success and for being the reason for success.
Let's salute our employees on this Thanksgiving occasion !!
Here are 10 Interesting ways on how you can say thanks to your employees on this Thanksgiving day !
http://marketing.synergita.com/10Interesting_ways_to_thank_your_employees_thanksgivingday