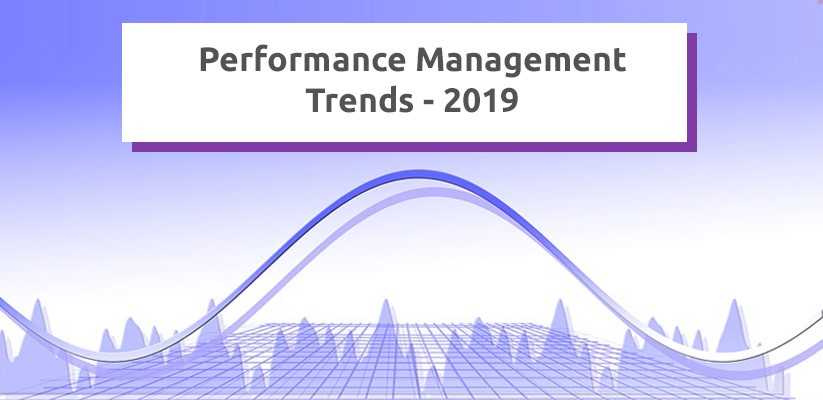 6 Performance Management trends of 2019 that will revolutionize the way we work
Productivity in HR is the new buzzword. Performance and productivity go hand in hand. Enhancing employee performance is the ultimate way to boost your business performance. Aiding to improve the productivity of the employees is now the main objective of HR. The HR technology, their roles & responsibilities all are aimed at improving employee's performance and therefore productivity.
Big data and analytics changed the way we consume data and our interpretations. After impacting business intelligence, marketing intelligence and customer intelligence, Big data enters into HR realm with a bang. Businesses realize customers and employees are their lifeline. Big data helped companies in a big way to identify, nurture and retain their customers. Encouraged by its success companies now turning to Big data to gain intelligence on employees behavior and performance. Automating employee performance management helps them gather and analyze performance metrics, continuous conversations of the employees. It will eventually lead the business to achieve HR intelligence.
Changing workforce scenarios such as heightened competition to acquire and retain the skilled workforce, increased gig and remote workforce, growing millennial workforce, etc. plays a crucial role in defining the future HR trends. Considering the current development and future needs, we present you the top performance management trends to watch out for while redefining your HR strategies in 2019.
Continuous performance management will go mainstream
It's been proven time and again that traditional once-a-year performance appraisal is ineffective for growing businesses. Annual performance reviews are falling out of favor and continuous performance management is gaining momentum across business verticals. 54% of employees reported in a Mckinsey survey that the present performance management had no positive impact on their performance.
Employees need instant and continuous feedback on their performance. They don't want to wait a year to learn how the managers perceive their performance, their capabilities and the areas to improve. A year wasted without knowing these insights is detrimental to their career growth. They want to resolve the issues then and there and grow at a faster pace.
HR folks are looking for a comprehensive performance management tool that fulfills their current needs and the capacity to evolve to meet their future needs. HRMS suits offer very limited features and in most cases not evolving fast enough to meet their demands. Niche performance management software such as Synergita provides multiple touchpoints like real-time continuous feedback tagging the goals, monthly or quarterly reviews and 360-degree feedback.
Companies experiment with a mix of performance management strategies
Organizations realize that one size fit all performance management solution is not feasible. What worked for Google and Netflix may not work for your work culture. Every organization has its own DNA and needs a customized strategy to achieve the best results. HR leaders are trying a mix of approaches based on productivity research scientific insights, and technology tools to engage, nurture and develop employees and achieve performance-driven growth.
Though rank and yank kind of appraisals are outdated, companies need to have some fair and transparent metrics to identify their best performers and not-so-best performers. They use a mix of development-oriented continuous feedback based performance management strategies, instant appreciation and reward programs and cumulative annual performance reviews & ranking as their approach.
Learning and employee development takes center stage
Empowering employees through training and development programs are the primary motivator for boosting employee performance and productivity. Organizations design new learning and development models for their employees to create radical career paths for their workforce. This approach helps them attract and retain top talents.
Evaluating the employees and categorizing them in buckets are unproductive and very demoralizing for the workforce. Moreover, the primary objective of performance management is changed from evaluation to continuous development. "Whenever we identify skill gaps or areas of improvement in our employees our first reaction is to fix it with relevant training programs. We partnered with an online learning platform for continuous development and growth of the employees. The more they learn, the more they can contribute. It's a win-win deal for both", says the HR Director of the 9-times winner of a 'Great Place to Work' organization.
Gig and remote workforce will catch on
Workscape is changing drastically. Technology advancements and automation replace most of the unskilled jobs. The jobs become more niche and the demand for the skilled workforce is getting higher. A recent SHRM research highlights that 40% of the organizations provide flexible work arrangements as one of their most effective recruitment strategies. Telecommuting (Work-From-Home), allowing employees to choose their working hours, and hiring specialized freelance workforce are gaining momentum and will determine the future of the workscape.
HR teams have to adopt new methods to engage, nurture and develop the remote and flexi workforce. Their performance management strategies should take in the changing work scenarios and their development needs.
Changing workforce demography and rapid growth present a challenging course for the HR people while developing a robust and productive performance management process. Performance management software tools such as Synergita come to their rescue and help build a scalable system for their organization. Organizations are more inclined to adopt HR best practices and embrace continuous feedback, instant recognition, development focused performance appraisals. A happy and satisfied workforce results in positive business outcomes.