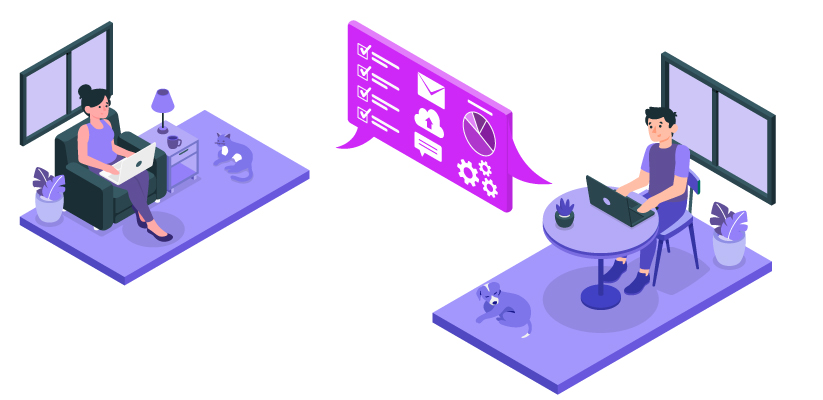 Changing Work Culture- a Paradigm Shift From Office to WHF
By now, most employees are likely to be familiar with working from home, having already created a designated work from home station and had all their affairs in order.
So what is next? Changing from the employee perspective to the organization's – could this dramatic series of events lead to an astounding resolution that most roles can be operated within the solidarity of one's home? With an increase in connective resources such as Laptops, corporate mobile devices, Hot Spots, and communication platforms (Zoom, Skype, MS Teams) – employees who harness all resources show little to no reasons on why they are required to come to the office on a daily basis. Could this create a paradigm shift of a more lenient culture towards working from home?
With many large technology corporations having already implemented the switch into the primarily remote staff – according to an article by the guardian, "many employees for companies who have sent all staff home are already starting to question why they had to go into the office in the first place." So now the question is, has this pandemic given employees insight on what life would be without the time-consuming travel and costs associated with those? On the other hand, has this created the realization, for those who wish they could work from home frequently, that may be the absence of social interaction is not right for them?
Let's make a list of Pros and Cons for the ability to work from home:
PROS:
Recruit anywhere in the country/world with no overhead of relocation fees
No travel expense for employees daily commute
Never miss out on top-talent due to location impediments
Employees will have the flexibility to take care of personal daily tasks
Cons:
Overhead cost of supplying devices (Laptops, computer monitors, assurance that employees have proper bandwidth)
Possible confusion from employees/managers due to electronic communication
Employees will have to take a larger initiative to avoid feeling sedentary
HANDPICKED RELATED LINK:
Now let's break down a few of these pros and cons. In order to get exposure to the remote talent, employers can leverage ATS software that can help connect them with fitting possible employees. Employers can also use platforms like LinkedIn to promote specific positions while also looking into/filtering candidate's backgrounds. The idea of never missing out on top talent because they can work from anywhere is some-what of a myth, first, you must find a candidate who is willing to work completely remote. This might be more difficult than you think as some individuals need the social stimulus, which requires office visits.
Although some of these cons do not seem to be a concern when only working from home 1-2 days out of the week, they can be cumbersome for an individual who stays an extra 40 hours a week in his/her living space. Some of these employees will have to go an extra length to meet with other members of the team or just stepping out of the house. Some applications that help this lulling feeling include a virtual coffee meet with team members or the whole team. Also, suggest to all team members to use video during virtual meetings. This will help the employees to become more familiar with each other which can boost interaction.
Typically, about 5.2% of Americans work remote full-time (CNBC), could this be a turning point for more availability to work from home or the employees' option to do so? We are currently going through a situation where push came to shove, how will employers react to WFH requests when the world stabilizes? Using precise investments for employees and a more lenient option to work from home, we could see a higher increase in employee satisfaction.