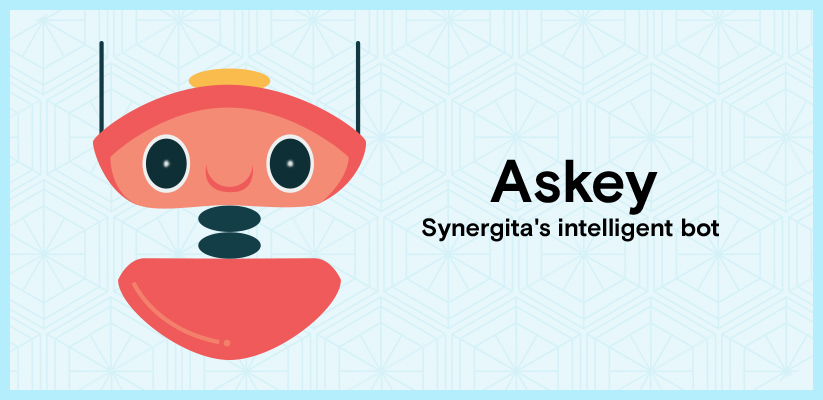 Hi There! The Smart Askey is Here to Help you Complete Performance Reviews.
We live in an era where technology has invaded our everyday lives. So, the next time you are hired for a new position, all the information that you need from HR, would be answered by the chatbot. This is because chatbots have become so popular that they have replaced HRs. Millions of employees are interacting with chatbots in place of HR these days. This is again because chatbots facilitate internal communication between employees saving time and money. The process is less complicated as well. Chatbots are of different kinds and they carry out the most mundane tasks of HR. We could even say that the HR domain is totally moving towards chatbots.
At this point I would like to mention that, we at Synergita, have introduced Askey, our own intelligent chatbot, to make your life a lot easier. Let us begin by addressing the generation that is leading workplaces now. What do millennials love the most? Instant access to information at the click of a button. This is where our intelligent Askey comes in when helping you with any HR-related issues. You can easily be connected through your mobile devices. You can send a message and receive an instant response right away. Since employees are heavily reliant on mobile phones and are glued to them 24X7, Askey is useful in terms of helping remote employees as well, who do not have a direct connection with HR. It makes communication much easier and faster.
Let us look at some of the incredible solutions offered by Askey:
Provides customized responses quickly
Employees have limited time to spend on their queries when they want to look for answers. But at the same time, employees need immediate answers to their questions. Askey is handy as it easily provides answers with the help of its access to the repository. Thanks to companies that invest in new technologies, our Askey provides a fast and customized response to all your questions.
Performance Reviews
Performance reviews are very crucial at the same time it proves to be a burdensome process for HR. Especially, annual performance reviews are very time consuming and we often spend months conducting performance reviews for all employees. We make employees fill questionnaires, surveys, and long forms at the end of the year. And yet, the data collected is not accurate most of the time. This slows down the productivity of the organization as our employees are busy filling out forms instead of focusing on many important tasks.
However, with the help of Askey, you can resolve these issues in no time. Askey helps you gather accurate information from the employees, saves a lot of time and boosts your business productivity.
Improves Decision-making
HR usually bombards the employees with a truckload of information. With the existing amount of workload that employees have, it becomes difficult for them to answer the most important questions. You don't have to remember everything now, instead Askey will answer your queries in real-time which will help employees to make decisions faster. Moreover, it helps HR work on more crucial and strategic issues.
Gathers employee data efficiently
There is more to Askey other than just answering your questions. Askey also helps you gather employee data so that you can make more informed decisions. Askey analyzes questions that are frequently asked by employees from time to time. With these frequently asked questions, HR can determine the issues that employees face and try to solve those issues on time. With the questions that are asked, HR can even find out how satisfied their employees are.
Takeaway!
Our intelligent Askey is quite useful for employees as well as HR when it comes to answering your queries efficiently. It is very easy to use and saves your time effectively by sparing you from the horror of carrying out your most trivial, and mundane tasks.