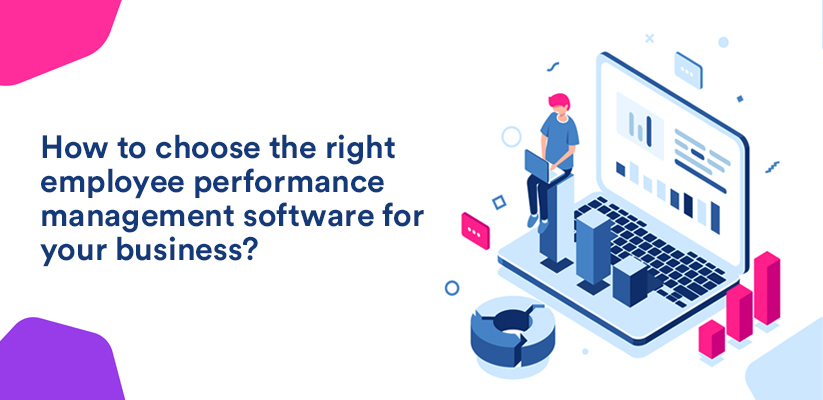 How to choose the right employee Performance Management Software for your Business?
If you want to engage employees and streamline administrative tasks then you definitely need employee performance management software. Performance management software helps you organize your people and performance data and automate appraisal process administration. It helps you stay focused on employee development and engagement. Performance reviews can be done faster and insightful analytics are made available for the top management. If you are not using one now then it is not a question of 'if' but 'when '. Choosing the right software is the key to achieve successful results.
i) Identify the strength and weakness in the existing process
Why do you need an employee performance management system? To find an answer you need to identify the challenges in your current process or practice. Do you face problems with managing administrative tasks or employee engagement related activities? List your problem areas that need to be addressed. Be mindful, a niche software or software suite cannot address all your issues. Preferably, categorize your problems into pressing issues that need to be resolved and the difficulties that you can live with.
Also, identify the highlights in your existing system. List the essential and unique elements that define your organization's work culture. These aspects need to be preserved if not enhanced. Listing of high points and low points help is the first step to find the right solution that fits your needs easily.
ii) Determine the objectives you want to achieve
The strength and weakness list your starting point in determining your objectives. It's a no brainer that you want to overcome all the weaknesses and amplify the strengths itemized in your list. It won't be enough. You need to dive deeper to determine specific and measurable goals and objectives you wish to achieve by automating your employee performance management.
For instance, if the long duration of the appraisal process is your low point, you need to fix the timeframe to complete the appraisal process as your specific goal. The right objective helps you find the right performance management software that contributes to your business success.
iii) List down the must-have and value-added features
Your organizational structure and the process define your feature requirements. Make a checklist of must-have core features, Employee Engagement features and analytics that are essential for your business. Prepare an ancillary list of nice to have features that make the software more appealing and add value to your process.
Every organization has its unique feedback forms and process workflow. If you follow a different process for each job level, then supporting multiple workflows feature is essential for your process. If you follow matrix or holocracy structure, ensure matrix goals management is added in your list. If you have a systematic reward program have it in your features list.
Make sure the list is not comprised of generic features alone. Intuitive, easy to use and integration are generic features. If you include integration then delve deeper and define the kind of integrations capabilities you would need such as single sign-on (SSO), level of integration required with the existing system and so on.
iv) Hunt for the software that fits your business
If you follow all the above-mentioned steps, then you have a comprehensive framework to begin the vendor hunt.
All the employee performance management software in the market covers certain basic features set. Nonetheless, each one has their own set of special features in which they are unbeatable. For instance, some may have trendy attractive UI while some other may have deep dive functionality. Choose the one that fits your organizational structure, process and work culture. Only then it is easier for the organization and people to adapt to the software.
Compare the vendors, products, features, pricing and their credibility. Understand the product thoroughly and the benefits it brings to your business. If possible include few managers who would be extensively using the software for the demo sessions. More importantly, don't try to cut corners to save a few pennies, as employee performance directly impacts your business performance. Investing in the right technology is quintessential for efficient talent management and achieving productivity driven business growth.
v) Assess implementation, training & support services of the vendors
Your pre-buying preparatory work is not complete until you evaluate their after-sales service. Carefully choose a vendor who provides smooth implementation, onboarding training and wonderful support service. Successful implementation requires utmost co-ordination between the organization and the vendors.
PMS product involves different stakeholders such as HR folks, managers and employees with varying usability scope. Ensure all of them would be appropriately trained to manage their part effectively. Evaluate their free and paid support service and choose the one that fits your business model.
Final words…
Software is only worthwhile if your company uses it effectively. Carefully evaluate whether your employees will adapt to the product, whether it is simple and doesn't add more complications. Check whether it has the features you need, can easily set and track goals, offer customizable review types and smart performance analytics.
The right employee performance management software steers your people to achieve a high-performance culture. Check out Synergita, the complete employee performance management and engagement software, and learn how it aligns with your performance and productivity aspirations.