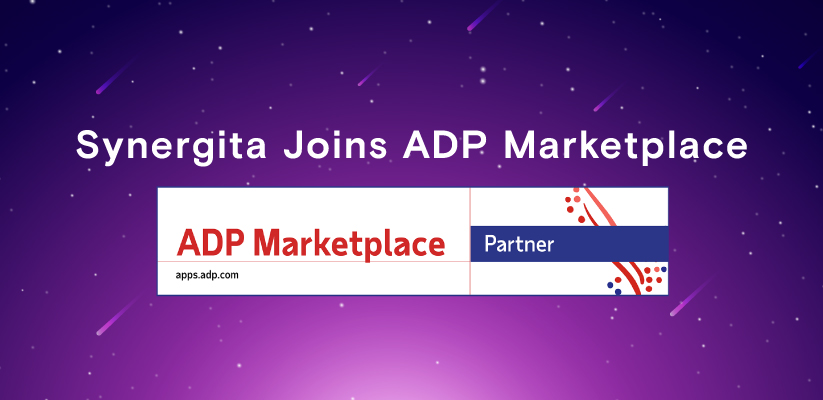 Synergita Joins ADP Marketplace
Synergita is now available on ADP Marketplace to help businesses drive employee engagement and reduce attrition by optimizing performance and engagement.
Synergita, a leading global provider of performance and engagement solutions, is now available exclusively on ADP Marketplace, a digital HR storefront designed to help employers create a custom HR ecosystem using solutions from ADP® and third-party partners like Synergita.
ADP Workforce Now® clients can extend the value of their HR platform seamlessly and securely with Synergita. Single sign-on access for mutual clients helps enhance productivity by eliminating costly manual entry and data errors.
"The Synergita-ADP Marketplace partnership is a great milestone for us to expand our presence in the U.S. We are truly excited to deliver best-of-the-breed performance management solutions to ADP Workforce Now clients. Our solution helps bring value to our mutual clients and enables them to measure, monitor, and motivate their employees' performance to drive business growth seamlessly," says Shankar Krishnamoorthy, CEO of Synergita.
This integration helps ADP Workforce Now clients save time and effort and streamline their performance management process by securely transferring employee data from their payroll platform to Synergita via single sign-on. Clients also have the flexibility to add charges directly to their regular ADP® invoice.
Synergita's solution can help businesses:
Create employee engagement and development-focused performance culture.
Provide continuous check-ins on goals for smooth progress and on-time completion.
Implement instant appreciation, peer recognition, social praise, and configurable reward programs to motivate and inspire employees.
Support multiple performance processes running in parallel.
Map of feedback forms unique to different roles, departments, and levels.
Use multi-level rating normalization to balance the rating anomalies.
Easily administer performance programs with a simple UI that employees love to use.
We also help engage, nurture and develop employees to build high-performing teams through:
SMART goals management
Objectives and key results (OKR) approach
Continuous feedback
Instant appreciation
Social praise/peer recognition
360-degree feedback
Periodic appraisal
Automated appraisal letter distribution
Employee development and training recommendations
Powerful performance analytics and reports
An organization that empowers their employees with smart technology tools helps enable innovation and achieve success. This becomes even more imperative during this great isolation and remote-working environment created in the wake of the COVID-19 outbreak. Technology can help bring your employees closer, help you monitor them better, and help them deliver their best performance.