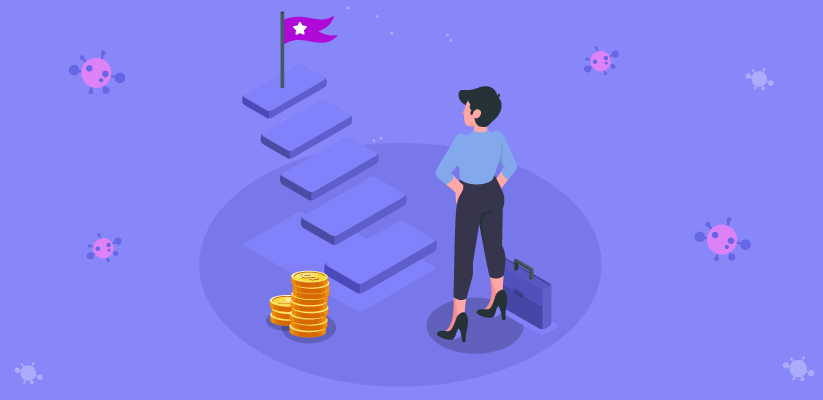 Impacts of COVID-19 on your goals and business objectives
Virtual sports? Virtual reality has already taken over the gaming world. But conducting tournaments like Madrid Open through virtual route and broadcasting them live is something novel to every one of us. The Italian Football team has already held its first virtual derby between InterMilan and A.C. Milan. Why is it crucial to implement new ways of experiencing sports in this critical period? The answer is simple. The clubs' objective is to generate revenue through broadcasting rights and sponsorships for the tournaments, and perhaps that would have been their target for the first quarter. And so, they are altering their strategy to achieve their goal for the quarter.
The entertainment and IT (remote working platforms, collaboration and communication tools, performance management system) sectors are gaining fresh momentum in this distressing situation. These sectors help people to cope with their stress and ensure the continuity of their businesses. (Of course, the government has to come up with plans for the unorganized sector.) While those products of those sectors are in high demand, there are other industries where the sales, production, and services have come to a complete halt.
"It is not possible to make any immediate estimate about where the industry will go from here. It will take some time before we can give any studied response. Just like the worldwide industry, we are also hoping that a vaccine to tackle coronavirus is developed at the earliest, or some cure comes out."
-R C Bhargava, Chairman of Maruti Suzuki
Sectors such as hospitality, tourism, and the auto industry have taken a great hit, and they are as baffled as the chairman of Maruti Suzuki, R C Bhargava, as they are unsure of the future and people's response after the crisis period.
HANDPICKED RELATED LINKS:
Be Perceptive; Change your Business Goals to Sustain and Thrive
Be it any area, hospitality or entertainment, they have to change their goals and business objectives to cater to the business needs during this pandemic situation just like the sports clubs. Entertainment and IT sector have to alter their business objectives to help as many customers as possible to retain them, ensure employees' safety, and maintain operations. Companies that engineer products that facilitate remote working should immediately change their goals and adapt to the changed working environment. For instance, the implementation team, if they had twenty successful implementations as their goal for the first quarter, should modify their goals to 60 or 70 as every company has been forced by the widespread COVID-19 to work remotely.
Industries like hospitality and tourism should set realistic goals so that they would be prepared for tomorrow. The sectors must focus on employees' safety, measure the impact, take appropriate measures, and set goals that will help to raise the fallen business and overcome the damages.
Employees are your Power; Set Clear Goals to Leverage their Abilities
It is a fact that engaged employees can always bring the business back to normalcy and weather any storm such as recession period. As an organization, it is your responsibility to set realistic and dynamic goals. You cannot maintain the same targets as the business environment will not be conducive enough to carry them out. When you change your business objectives and goals, your employees must know the change in decisions to reorganize their priorities. Managers have to ensure that the employees reset their individual goals based on changing priorities and measure their progress consistently. 
To successfully leverage the abilities of your employees, your performance management process should be agile and effective, and it should support different hierarchical organizational structures and effective in motivating, measuring remote working.